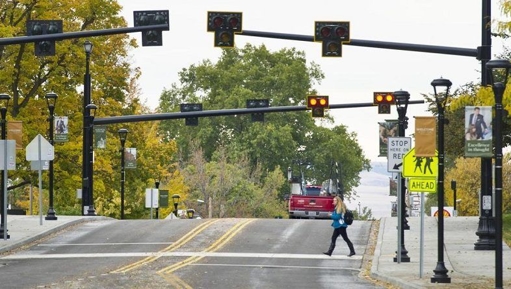 Pedestrians are no match for vehicles on city streets. And that is one reason municipalities are charged with the responsibility of ensuring street and road planning and traffic control measures are such that protect pedestrians and provide for their safety when engaging in spaces occupied by vehicles. This blog post will discuss issues related to municipal responsibility when a pedestrian is injured by a vehicle on the roads.
Traffic Control Failures
Municipalities may indeed be found negligent in a vehicle/pedestrian accident claim when traffic control devices fail to properly regulate traffic flow. For instance, if traffic control lights in both directions of an intersection are green at the same time and a pedestrian enters the intersection not really understanding that the traffic light for oncoming traffic is also green, the municipality may be held liable for any resulting accident. If, however, the pedestrian has noticed that both lights in the intersection were green at the same time and still crossed the street, they may be on the hook for their own injuries.
Likewise, if a traffic officer gives confusing signals waving through oncoming traffic while not stopping pedestrian traffic, the municipality may be found liable for any resulting injuries.
Municipal Planning Issues
Another reason a municipality may be held liable in a vehicle/pedestrian accident could be lapses in municipal planning. When streets are planned in ways that don't engender safety for both drivers and pedestrians, the municipality could be found negligence and, as a result, on the hook for damages in resulting accident claims.
If a crosswalk is placed well beyond the curve of a busy three-way intersection, it is quite possible cars making that turn will speed through it, not expecting a crosswalk after the turn. This situation could be rife for vehicle/pedestrian accident.  If an accident occurred as a result, personal injury damages could be assigned to the municipality for poor city planning.
Getting the Help You Need
Determining whether the municipality is at fault in a vehicle/pedestrian accident is a difficult task, many factors contribute to a ruling of neglect. Securing counsel from an experienced personal injury attorney is the first step to recovering personal injury damages in cases like these. Panio Law Offices offers skilled accident attorneys who understand Illinois personal injury law and have a wealth of experience recovering the highest damages awards for our clients. There is no cost for consultation, and we never collect a fee unless we recover damages in your case.
Call our offices at (708) 928-8680 to speak with an experienced personal injury attorney today. We can help.