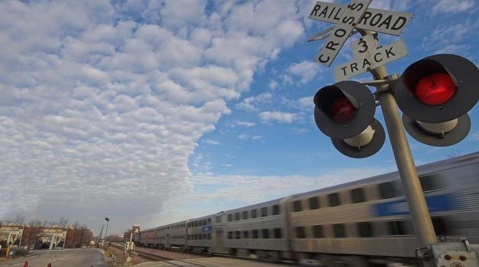 A woman from Portage, Illinois was struck and injured when she tried to drive around the gates of a train crossing in Chesterton, Illinois last week. The accident happened as the woman tried to beat an Amtrak train headed for the crossing, according to police. Officials said the train was traveling 70 mph, and that no one on the train was injured.
The Chesterton Police Department reported the accident occurred just after 11 p.m. at the Norfolk Southern rail crossing at 15th Street. The woman reported to police that she was trying to make her last delivery for a local pizzeria as she was headed southbound on 15th Street.
When she approached the crossing, she told police the gates signaling an oncoming train lowered. She drove around the gates in an attempt to beat the train, and when she did an Amtrak train struck the vehicle in the rear passenger side. The woman complained of pain in her neck, back and leg, was taken to Porter Regional Hospital. Police reported no sign of intoxication during their investigation.
The fact is this kind of train accident could see no personal injury damages awarded at all—that due to Illinois' Modified Comparative Negligence laws. Under modified comparative negligence, an individual suffering injury in an accident they themselves are found to be partially responsible may only be awarded a percentage of the damages reflective of the other responsible party's fault in the case. In fact, modern comparative negligence dictates that if the plaintiff bears 50% or more of the responsibility for the injuries, no damages are awarded whatsoever, leaving the injured party on the hook for all of their injuries, lost wages and any other damages that result.
Call the experienced personal injury attorneys of Panio Law Offices in Chicago if you have any questions about a personal injury claim so that you can get the benefit a skilled advocate who understands Illinois personal injury law, can assess your claim, possible damages and responsible parties involved. We work hard to derive evidence that proves your claim, from investigation to securing expert witness testimony. We work hard to protect your legal rights and we'll recover the highest damages award to which you are entitled in your claim.
Call us at (708) 928-8680 today and speak to an attorney. Consultation is free and we never collect a fee unless we recover damages for you.