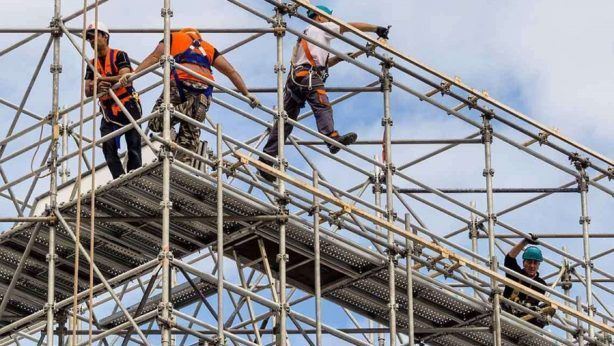 On Tuesday afternoon, May 8, 2018 a man was injured at Michigan Avenue just north of Millennium Park when cable attached to a window washer's rigging and scaffold fell to the sidewalk and street. The accident damaged eight vehicles and shattered glass in the Crain Communications Building, 150 N. Michigan Avenue.
Michigan Avenue was closed off to pedestrian traffic, along with vehicle traffic between Randolph and Lake streets due to "fallen scaffolding incident," according to the Chicago Office of Emergency Management and Communications. Repairs are underway.
Following the accident, building tenants on floors 12 and below were asked to stay at least 25 feet away from the east side windows. Access through the building's main doors on Michigan Avenue and Randolph was restricted and tenants were required to use a loading dock door according to an email sent by building management.
No report has been made on the condition of the victim in the accident. However, it's important to understand that incidents like this underscore a responsibility on the part of multiple parties those in and around the building.
Building management has a distinct responsibility to its tenants and those in and around the building to maintain safe conditions. Premises liability law requires that maintain that in order to prove neglect management should have known or had the opportunity to understand that conditions were unsafe. In this case, it might be a difficult point to prove.
However, the window washing company responsible for the rigging and scaffolding, which caused the accident may be found negligent in creating unsafe conditions by not ensuring the rigging was secure. There are a plethora of factors that help to determine legal liability in a personal injury claim. Consulting with a practiced personal injury attorney should help to flesh out the legally responsible parties, the breadth of damages involved and the means to prove your case.
Call Panio Law Offices in Chicago at (708) 928-8680 to speak with an experienced personal injury attorney today. Consultation is free and we never collect a fee unless we recover damages in your case.